D. O. "Spike" Helmick
Retired Commisioner
California Highway Patrol
Sacramento, California
Dear Fellow Parents,
As the father of two children, I truly believe that driver education is the most important course your child will ever take. This is the first step in the process of obtaining their drivers license.
Cal-Driver-Ed is a pioneer in the field of online driver education. Over 30,000 California teenagers have taken their courses and are driving today.
I recommend Cal-Driver-Ed for home study driver education.
While I was the Commissioner of the California Highway Patrol, the Department of Motor Vehicles conducted an extensive study into the different methods of teaching driver education. The DMV found:
"Home-study students performed just as well or better than classroom students ... "


"Home-study courses may also have the additional benefit of increasing parental involvement in their teen's learning process, which has been shown to be an important factor ..."
I encourage you to take an active part in your child's drivers ed course. Give them real world examples of what they are reading about. Talk about driving laws, traffic signs and traffic safety while they are riding in the car with you.
The more they learn now, the safer they will be when they start driving.
Sincerely,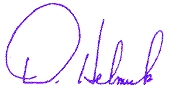 D.O. "Spike" Helmick